Designing a Winning Package to Stop AAPI Hate
Inspiration is displayed in a variety of forms. In art, music, but also in design, including packaging design. 
In March, the Paperboard Packaging Alliance announced the 2021 Student Design Challenge Winners. The Paperboard Packaging Alliance is a joint venture between the American Forest & Paper Association and the Paperboard Packaging Council.
This annual competition fosters awareness and appreciation of paperboard packaging with the next generation of packaging design decision-makers.
This year, students were tasked with creating a sustainable paperboard packaging solution for a community relief organization.
Fashion Institute of Technology's Jessica Vergel, Ankita Ghosh and Claudia Natasha took home first place for their design, Super Kit. 
Natasha spoke on the inspiration behind the packaging design.
"Moved by rallies against anti-Asian hate crimes that were happening in early 2021, the Super Kit educates and empowers young Asian American and Pacific Islander (AAPI) children to fight against hate and racism," she explained.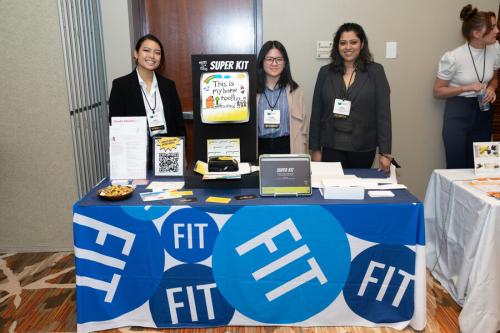 Jessica Vergel, Claudia Natasha and Ankita Ghosh at their booth showcasing their prototype.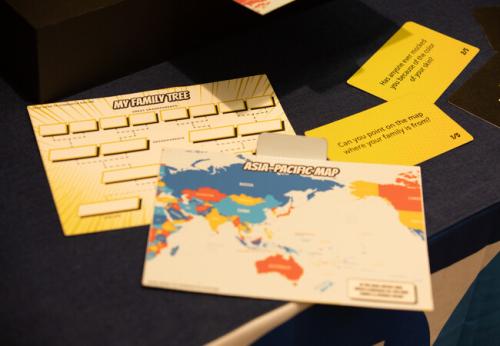 Portions of the Super Kit prototype on display.
Natasha said children, too, experience hate and frequently, their voices aren't heard. 
Inspired by comic book superheroes, the kit contains items that help children feel proud of their AAPI heritage. 
With a topic they were passionate about, these students started to turn their vision into a prototype. 
"Since we were virtual and quarantining for the whole semester, we resorted to materials we had already to execute our ideas. It was not until the final prototype that we printed our structure on a large format printer at a local print shop and hand-ensembled."
The FIT Super Kit contains:
A Hate Is A Virus' Tee to help children raise awareness
An Asia-Pacific map  
My Family Tree activity to educate them on their identity,
The Super Qs (conversation cards) to help parents/guardians initiate talks about hate and racism with their children
A Super Shield as a space for children to creatively express their thoughts and feelings about the issue. 
 
"Wearing the Hate Is A Virus Tee and the decorated Super Shield in hand, they are ready to walk in community protests," Natasha said. 
Along with giving a voice to the younger generation of AAPI, Natasha and her team are also excited about the future of packaging design. 
"I am equally excited about the use of new technology in creating more sustainable packaging. An example is the digital watermarks for easy material sorting at a material recovery facility," Natasha explained. 
She also points out the need for more communication on whether packaging is recyclable or not. 
"Leave no room for second-guessing," she said.
Natasha and her team are thankful for the Student Design Challenge and the experience to have passion fuel a project they're proud of.
"This competition has helped us think about structural development, sustainability in the bigger picture, and to use paperboard packaging to help solve issues and make a real difference. Thank you to all who are working in the paperboard packaging industry," she said.
Another big picture they're hoping people see is the lack of conversations about racism within the AAPI homes. The Super Kit team hopes that kids will be able to amplify their voices and share more about their AAPI culture and their experiences.